Your Next Valuation: Step By Step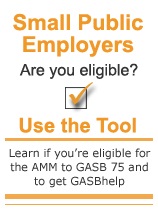 When it is time to start your next valuation, you will be presented with the data that was used in your previous valuation so you don't have to re-enter your information. GASBhelp was designed in this way to make updating your valuation report as easy as possible. This page will help you identify what changes you need to make as well as how to make those changes.


Although the data from your last valuation will be your starting point, it is very important to review your information to make sure that the data entries are correct and up to date, and that changes are made where needed. For example, every GASBhelp user will have to make at least one change to their key assumptions when performing their next valuation: updating the valuation date. Click here for a list of the key assumptions to determine if you need to change them.


Below is a list of scenarios. Select each scenario that describes the change that occurred between your last valuation and today.